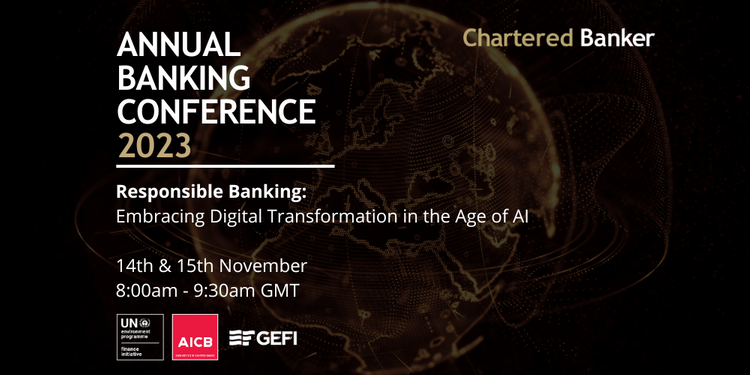 The Annual Banking Conference returns on the 14th and 15th November for its 8th year. The Conference brings together industry practitioners, professionals, academics and colleagues from across the globe to focus on a theme of global importance.
The overarching theme for this year's conference will be Responsible Banking: Embracing Digital Transformation in the Age of AI.
This year's Annual Banking Conference will be held virtually on 14th and 15th November 2023 (each day's session will run from 8am - 9.30am GMT). Each day is free to attend and you can register for just one day or both by clicking the links below.
Day 1 – Responsible Banking: Our Past, Our Present and Our Future
15 years on from the Global Financial Crisis – as a new generation of bankers emerge, that don't think of themselves as bankers, have we forgotten the basics of responsible banking? And what new challenges await them?

Day 2 – Accelerate Learning: The age of learning, responsible banking and developing capability
The future of learning and the interaction between digital and sustainability in banking.

​​​​​
Speaker Details
Chair
Bill needs little introduction to Institute members, as he is the immediate Past President and a Fellow of the Chartered Banker Institute. Bill is Principal of McCall & Partners, a corporate finance advisory business he founded in 1999. He is a seasoned independent Director and has been Chairman of more than 50 private equity backed companies in the UK, Nordic region and North America. Following his early career at Clydesdale Bank where he passed the Institute exams, Bill joined stockbroker Campbell Neill & Co, and was elected an Individual Member of the London Stock Exchange in 1990. He is a former Director of Charterhouse Tilney and of merchant bank Singer & Friedlander.
Keynote Speaker
With a career that spans medical research, leadership roles in education and banking, Dame Susan was the first woman to head a UK or European bank as chief executive of Lloyds TSB Scotland, plc. She chaired the Chartered Banker: Professional Standards Board from inception and subsequently the Financial Services Culture Board. She chairs GEFI which is delivering its Path to COP28 campaign in the UK and the UAE and helped develop numerous social finance and impact investing entities in the US and the UK.
She also chairs the boards of Scottish Water, Business Stream, North American Income Trust, and was previously a Director of the Bank of England, SSE plc, J. Sainsbury. She was founding Chair of Scotland's official independent economic and fiscal forecaster and recently joined the Board of the UK's Office for Budget Responsibility. Alongside a number of honorary degrees and professional fellowships, Susan is a Freeman of the City of London.
Speakers
Maryke Luijendijk is Assistant Vice-President at Dubai International Financial Centre (DIFC) where she heads up the DIFC Academy, an institution that offers training and education to the DIFC community and beyond.
Prior to this she was an Education Advisor and before that she held roles of Program Director for the Executive MBA at American University in Dubai - a program she successfully designed and launched and of Director of Marketing and Admissions for the top-ranked MBA program portfolio at Rotterdam School of Management, Erasmus University (RSM). She has also worked in the UK and started her career at educational institutions in her native South Africa.
She holds a Bachelor of Commerce Degree in Communications Management, an Honors Degree in Industrial Psychology and a Master's Degree in Sustainable Development and Management, all obtained at the North-West University, South Africa. She is currently enrolled in a parttime Master's Degree in Education Leadership at the Graduate School of Education at Harvard University.
To connect with DIFC click here.
Dee Korab is a Relationship Director supporting the real estate sector at HSBC UK Bank plc. Dee started her career in Australia, working for two major domestic banks in the institutional and corporate banking space in both Melbourne and Sydney. Over the course of her 9 years in the banking industry, Dee started as a credit analyst specialising in real estate, has since led a team of credit analysts and managed the credit quality of largest real estate debt portfolio at the bank, recently oversaw the rollout of a global regulatory project in the UK and US, and now manages a debt portfolio of her own, supporting large corporate property clients in London where she is currently based. Dee has a genuine interest in sustainability, holding a Certificate in Green and Sustainable Finance from the Chartered Banker Institute, and is sustainable finance ambassador at HSBC. She hopes to mainstream green and sustainable finance in the areas that will have the largest impact on reducing global CO2 emissions.
Inacio Fernando is a ESG specialist, with 15 years' experience in the banking sector in Mozambique. He is also founder, and President of the Board of Clube Moza - an organization of banking professionals. He is the author of the book "Social Responsibility – Challenges for the Private Sector." He possesses extensive experience, knowledge, and specific skills for promoting sustainable practices across various domains such as the environment, economy, society, and governance. He also holds an in-depth understanding of sustainability-related challenges and solutions, aiming to strike a balance between present needs and future demands. He analyzes human activities and their impacts on the environment, aiming to identify unsustainable practices and propose viable alternatives. He has contributed to the assessment of public policies and existing regulations, providing recommendations to make them more sustainable.
Lauren Pamma leads the Green Finance Institute's Coalition for the Decarbonisation of Road Transport, which focuses on developing new financial products and solutions to unlock the capital required to accelerate the transition to zero emission mobility.
Prior to joining the Green Finance Institute, Lauren's career at Lloyds Banking Group spanned 16 years and saw her hold a number of finance, strategy and commercial roles, primarily within the asset finance division. Most recently she led the electrification agenda for Lex Autolease, identifying ways to accelerate the transition to electric vehicles. Lauren is a Fellow of the ICAEW.
Day 2 – Accelerate Learning: The age of learning, responsible banking and developing capability
Chair
Tanya leads the development of the Institute's portfolio of qualifications, education, and training, ensuring they are supporting the needs of professional bankers globally. Her remit includes delivery of the Institute's strategic vision with continued growth and utilization of the Institute's Principles for Responsible Banking (PRB) Academy.
In joining the Institute, Tanya brings over 25 years of banking experience from NatWest and RBS, with skills and capabilities across Learning and Development, Professional Qualifications, Digital enablement, Leadership and most recently CX and EX. She is a certified SAFe 5 Agilist and Executive Coach.
Senior Consultant, Researcher & Lecturer, in the field of Economics and Sustainable Development; with more than 20 years of experience in consulting, lecturing, research, public and private policy advising on Sustainable Development and Climate finance; on the local, regional, and international level.
His consultations experience covers public policy and corporate consultations, the later includes; financial sector, health, telecom, ICT, F&B, Oil and Gas, construction, real-Estate, petrochemicals, Fertilizers, among others.
He received his MSc and Ph.D. from the faculty of economics and political science, Cairo university in cooperation with the Free University of Berlin, Germany, and has been a visiting lecturer among many universities; currently at the Maastricht School of Management (MBA) Program.
Connect with Ehab on LinkedIn here.
Dr. Kok Ming Chin, Head of Regional Learning and Development at CIMB, boasts 18+ years of expertise in human capital development, with a 12-year stint at CIMB and a prior 12-
year tenure at PricewaterhouseCoopers. In CIMB, she spearheaded the set-up of a few academies (ie Leadership & Management Academy, Sustainability Academy, Digital &
Data Academy) within CIMB's "University" to foster a future-ready workforce. Collaborating with Business Leaders, these efforts earned CIMB prestigious accolades,
such as the Gold Award at the HR Excellence Awards in 2017 and EXA 2023's Best In-House Learning Academy, alongside CIMB Bank Berhad's Human Resources Minister
Award in 2022. Her commitment to shaping a dynamic and forward-looking workforce defines her distinguished career.
Event Supporters
The Asian Institute of Chartered Bankers (AICB) is the sole professional body for Malaysia's banking industry with over 34,000 members and growing across 10 countries. The Institute aims to raise professional standards and the level of knowledge and competence of the banking workforce through its professional membership and qualifications. AICB members comprise individual members and corporate members.

AICB website
GEFI is a non-profit based in Scotland with a global footprint. We are dedicated to enabling finance to deliver positive change and help achieve the UN's Sustainable Development Goals by curating conversations and delivering practical projects.
Since the Ethical Finance Round Table series was founded in Scotland in 2010, we have grown into a leader in ethical finance, with a global network of over 10,000 contacts.
Our flagship annual Ethical Finance Summit has become a leading global platform for open, honest, and progressive discussion and debate, while our Path to COP26 campaign brought together stakeholders from across finance for the Glasgow climate summit.
Our core team has expertise in corporate finance, ethical finance, faith-based finance, sustainability, economics, banking law & governance and communications. We are guided by our Global Steering Group (GSG), which brings together leaders from around the world, across finance and beyond, to support our dynamic team based in Scotland.
UNEP Finance Initiative brings together a large network of banks, insurers and investors that collectively catalyses action across the financial system to deliver more sustainable global economies.
For more than 30 years the initiative has been connecting the UN with financial institutions from around the world to shape the sustainable finance agenda. We've established the world's foremost sustainability frameworks that help the finance industry address global environmental, social and governance (ESG) challenges.
Convened by a Geneva, Switzerland-based secretariat, more than 500 banks and insurers with assets exceeding US$170 trillion work together to facilitate the implementation of UNEP FI's Principles for Responsible Banking and Principles for Sustainable Insurance, as well as three UN-convened net-zero alliances. Financial institutions work with UNEP FI on a voluntary basis and we help them to apply the industry frameworks and develop practical guidance and tools to position their businesses for the transition to a sustainable and inclusive economy.
Founded in 1992, UNEP FI was the first organisation to engage the finance sector on sustainability and incubated the Principles for Responsible Investment, now the world's leading proponent of responsible investment.
Today, we cultivate leadership and advance sustainable market practice while supporting the implementation of global programmes at a regional level across Africa & the Middle East, Asia Pacific, Europe, Latin America & the Caribbean and North America.
To find out more about UNEP FI click here.
Keep your eyes peeled for speaker announcements on Twitter by searching #responsiblebanking