We are delighted to partner with Sustainability Unlocked to bring our members sustainability videos for all professionals.
Sustainability Unlocked provides foundational sustainability content to financial institutions through an innovative on-demand video platform.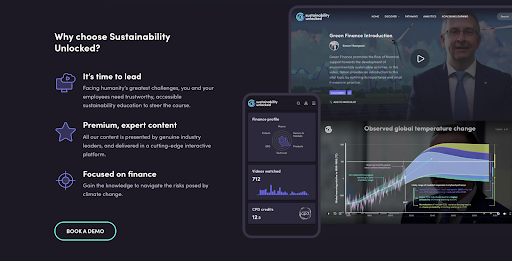 What is Sustainability Unlocked? 
Sustainability Unlocked provides on-demand bitesize learning videos, that are accredited for CPD purposes by the Institute and delivered by leading Sustainability practitioners.
The content includes 9 pathways, which include over 30 short video modules covering fundamental concepts around ESG and Sustainability. Video modules are bitesize, lasting approximately 10 minutes which are accompanied by an executive summary and key learning objectives.
Watch all the videos in a pathway to broaden your knowledge of a subject or view individual videos to meet your on-demand learning needs.
How do I get access?
The content is being made available free to all members through our Learning Management System (LMS).
If you are currently studying with us and have access to our LMS the content will be there ready for you utilise.
Log in to our website and navigate to the 'My Member Area' and then from the drop down select 'Learning Management System'
If you are not currently studying with us but would like access, please fill in the form below to request access.
You will then be registered onto our LMS.