Mentoring: Mutual Benefits
1 November 2017

Blog | Career Development | Managing People | Blog
For organisations facing the talent challenge, mentoring has an important role to play in driving business and personal success.
Most organisations face the challenge of recruiting, growing and retaining talent. Mentoring schemes, whether in-house or within specialist professional groups, can help firms to address this by enabling individual development, career growth and employee commitment. In short, mentoring is good business.
WHAT IS MENTORING?
At its simplest level, mentoring is a series of developmental conversations where insight and learning take place; where a more experienced person shares their wise counsel, their knowledge, professional wisdom and experience, with a more junior person or peer. The conversations are focused around an area of work or skills development that the mentor has a track record in. There are two main orientations: sponsorship or developmental mentoring. Sponsorship mentoring is more prevalent in, but not exclusive to, the US and in American-owned enterprises. The differences are shown in the table below.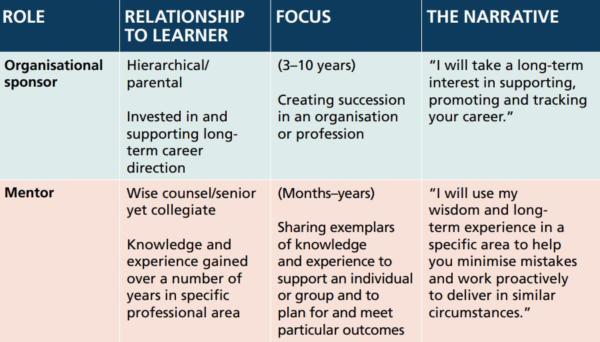 The differences can be very subtle, which means that clarity at the outset about the kind of mentoring relationship you want to engage in is important. As a prospective mentor, ask yourself:
• Why do I want to be a mentor?
• What specific experience and expertise would I like to share? (Be as precise as possible)
• Which skills and knowledge do I need to develop as a mentor?
• How much time can I commit?

WHEN CAN IT HELP?
The benefits of mentoring are myriad. Common themes where learning from a more experienced senior colleague or peer can make a difference include: new staff on-boarding, career development, cross-cultural working, risk assessment, professional standards, requirements in a different territory or handling new market entry. The most successful interventions are where the organisation has a defined mentoring scheme that is actively promoted.
HOW CAN I BECOME A GREAT MENTOR?
Bankers and those with other roles in finance are busy, so a mentoring session can provide a rare opportunity to stop and think in a focused way with another person. An important part of the role involves helping a mentee remove distractions and slow down the pace in a session so they can focus. This is valuable time when the mentor is in service to the mentee. Helping someone to slow down long enough to gain insight into their future work can increase efficiency, promote a culture where the potential for success is maximised and help organisations manage risk.
Mentoring is usually about helping a mentee navigate a situation, develop a strategy or understand a specific aspect of business. You are sharing experience and knowledge and generating ideas with the mentee. The balance is more towards actively signposting and advising. You need to be prepared to share what you know, your successes and mistakes. Mentors need a growth mindset, focused on the ability of the mentee to learn. The mentee is looking to you for guidance, to help them understand the best way to deliver an outcome. They're looking to you to help them take a few shortcuts by learning from your experience and wisdom.
As a mentor, you need to learn how to make an agreement to cover the mentoring relationship (contracting) and how to work within a process the organisation uses to support mentoring (the mentoring scheme). You will need to use active listening, ask great questions, summarise, challenge assumptions and bring mentoring to a close (these are all key coaching skills). The best mentors understand how to manage the session and help a mentee to be clear on any actions they may take as a result. Working with a structured model can also help.
A MODEL FOR MENTORING
This simple mnemonic is useful in training mentors to think about managing a session around six stages. The mentee typically brings an issue. The mentor uses their experience to highlight factors the mentee needs to consider, helping the mentee think through their options. The mentee is responsible for producing a clear plan of action.
Motivate by generating ideas and options and sharing own experience
Explore ideas, solutions, roles and scenarios
Notice the mentee response and degree of movement towards a solution
Theorise as to the possible impact of the ideas and options generated
Outline a plan of proposed action
Review the session and what has/ has not been useful.
WHAT IF I WANT TO BE MENTORED?
Great! Having a mentor is a really good way to take responsibility for your own learning. Most mentoring schemes have an application and matching process of some kind. You will need to get really specific about your desired learning outcomes as this helps to match a mentee to the best-fit mentor. If your organisation or professional body does not have a scheme, be clear about your learning outcomes, your preferred learning style and any specific timescale you need to work within before approaching a mentor. The responsibility for defining what you want from the mentoring is down to you. Most of all, commit to learning. Be ready to turn up and do the work.