The Khalifa Review– Outlining the future of UK Fintech
Shona Matthews
31 March 2021

Blog | Fintech and Innovation in Banking | Blog
Launched in July 2020, the Khalifa Review of UK Fintech was published in February 2021. Given the success story of UK Fintech - which represents 10% of the global market and worth £11bn to the UK economy - Chancellor Rishi Sunak asked Ron Khalifa OBE to lead this review to determine the priority areas for the sector, regulators and policy makers, to 'maintain a clear vision' for its ongoing success. And whether we know it or not, according to the resulting report, some 71% of UK citizens are using the services of at least one FinTech company.
The review is primarily focused on establishing the UK as a global leader for FinTech and it raises a number of growing concerns, including the potential loss of talent and capital. It recognises that the sector is at a point of inflection: where there are threats to this ambition, which include:
Competition - from overseas jurisdictions, such as Singapore, Australia and Canada,
Brexit - which has created regulatory uncertainty,
Covid - which has accelerated digital adoption, meaning those who act nimbly will benefit from this,
and opportunities:
Jobs with the sector potentially playing a key role in the 'levelling up' agenda.
Trade if the sector can scale up globally, as well as taking the lead in standard setting.
Inclusion and recovery giving consumers access to better, cheaper services and in a sustainable way.
For those with little time an Executive Summary, published alongside the report, provides a good overview. For those with even less time, an infographic of the report's 5-point plan (reproduced below) will quickly bring you up to speed.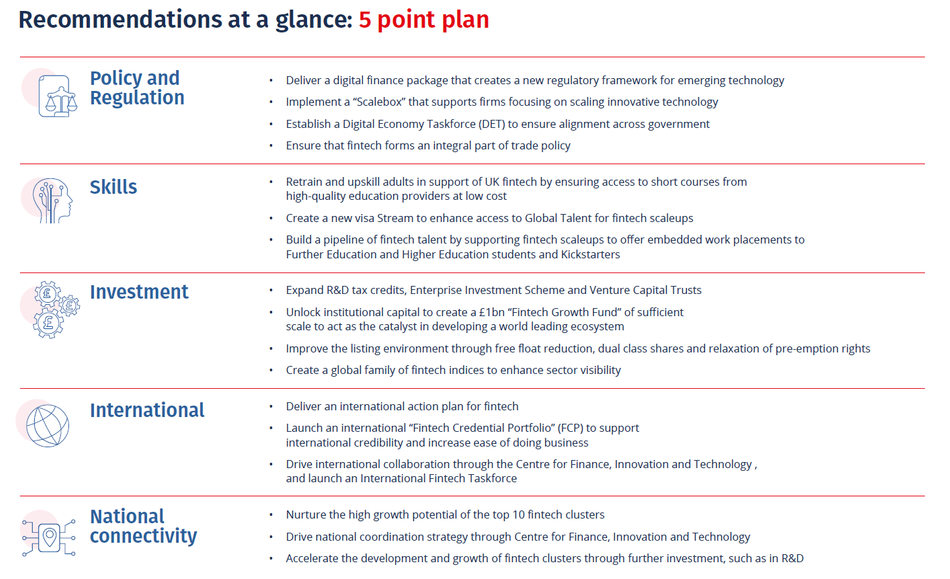 At the Institute, we will be following developments closely, particularly with regard to the creation of the proposed Centre for Finance Innovation and Technology. Through this Government mandated, private sector-led vehicle, there should be scope to engage with the future skills agenda, as well as ensuring sustainable, better outcomes for consumers through the envisaged sector-wide collaboration on issues such as inclusion and SME lending. Professional bankers have a key role to play here too, in meeting the challenges that lie ahead for UK Fintech, by combining their digital skills with technical banking knowledge and at the same time being able to apply professional and ethical judgement shaped by their expertise, experience, and professional values.
Author Bio
Shona Matthews is Head of Regulation and Policy at the Chartered Banker Institute.