Our Global Partners
The Chartered Banker Institute's global team works to build strategic partnerships with leading international educational institutions to promote;
collaboration in achievement of mutual objectives
internationally agreed standards and
global transferability of certifications and professional designations.
We have highlighted some of our partnerships below.
AFRICA
Founded in 2015, The iCapital Africa Institute are a professional services firm offering a full range of Human Capital Development solutions to clients in various sectors. Their approach is business-driven and they work to co-create innovative, insightful solutions that are practical and commercially sound. They help companies, universities, public enterprises, and start-ups in areas of strategy, organizational transformation and talent development. Their solutions are geared towards enhancing enterprises' ability to prepare for the fast changing nature of the business world. The foundation of the Institute is based on their understanding of the significant gaps that are limiting innovation and competitiveness of African enterprises at both regional and global levels.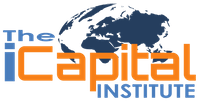 AUSTRALIA & NEW ZEALAND
We are proud to hold a long-term collaboration with the Financial Services Institute of Australasia (FINSIA) with whom we have partnered to develop and deliver a framework of professional standards, in addition to a framework of qualifications for use in Australia and New Zealand.
Within this partnership we have collaborated with FINSIA in the development of their education delivery – providing end-to-end consultancy including access to our subject matter experts, tutors and operational team; from qualification development through to advising and assisting with the most effective promotion of programmes.
Our ongoing collaboration has many elements. We:
Help develop and promote clear, internationally agreed education standards for the industry.
Help develop and promote clear internationally agreed professional behaviour and conduct standards for the industry.
Help develop localised versions of qualifications.
Host learning and assessment on our servers as required.
Undertake continual Quality Assurance, as part of our Accreditation service.
Provide assistance and consultancy in operational delivery and programme promotion as required.
We're proud to be long-term partners with FINSIA, who deliver exemplary work for the entire sector. An example of this is their collaboration with National Australia Bank to launch the Career Qualified in Banking Program in 2020. The qualification expected to see around 15,000 graduates by the end of September 2023, making it a huge success for both NAB and FINSIA and a great step towards raising professionalism standards across the sector. Further to this, hundreds of FINSIA colleagues have enrolled in our Certificate in Green and Sustainable Finance, demonstrating the importance of upskilling and raising the educational standards of banking professionals worldwide. We look forward to continuing our relationship with them and to the future successes and contributions we continue to provide.
BAHAMAS
Bahamas Institute of Financial Services (BIFS)
BIFS was established in 1974 to support The Bahamas' financial services industry development and to ensure that professional standards are met within financial services organisations.
BIFS enjoy a number of international collaborations in their promotion of managerial and technical expertise and their members undertake various qualifications from our framework. In 2020 BIFS launched our Chartered Banker by Experience programme, and they also work in collaboration with the Bangor University Business School – with whom we deliver the Chartered Banker MBA.
We also develop, manage and host the examinations for a number of BIFS courses.
BRUNEI
Brunei Institute of Leadership & Islamic Finance (BILIF)
Established in 2010, the Brunei Institute of Leadership & Islamic Finance (BILIF), formerly known as the Centre For Islamic Banking, Finance And Management (CIBFM), provides high-quality learning solutions and organises signature and collaborative events for human capacity development in the areas of Islamic finance and leadership.
BILIF has forged strategic partnerships with local and international organisations over the past 10 years that has allowed them to bring professional programmes, expertise and opportunities to shape future leaders, experts and innovators. BILIF offers individuals in Brunei the opportunity to undertake our full qualification range.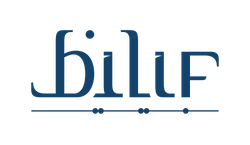 CAMBODIA
Institute of Banking and Finance (IBF), Cambodia
Founded in 2016, the Institute of Banking and Finance (IBF) Cambodia has been offering local and international standard certifications and trainings, with specific focus on 3 mandates:
Uplifting the good corporate governance in Cambodia
Standardizing Banking Practice through our country competency framework and textbooks for the industry and universities in Cambodia
Providing the international certifications and short course programs to narrow the industry skills gap and to provide future-ready workforces for the industry
With the support from the National Bank of Cambodia, and in collaboration with the Assocation of Banks in Cambodia and the Cambodia Microfinance Association, IBF has served over 17,000 fellow banking professionals undertaking managerial and technical qualifications guided by our country competency framework.
IBF introduced Charter Banker program to their members in 2022 as part of their strategic plan to uplift the international certification standard in Cambodia. Our partnership with IBF has been fruitful in broadening the understanding of the banking and financing industry globally and regionally.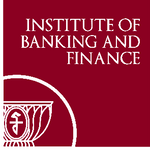 CARIBBEAN
The Caribbean Association of Bankers Inc. (CAB)
The CAB is the representative body and recognised voice for banks and other financial institutions in the Caribbean. They represent over 80 member institutions throughout 20 countries; predominantly in the Caribbean and South America, with some service members based in Canada and the USA.
The CAB are launching our Chartered Banker by Experience programme across their jurisdiction and we continue to explore further opportunities for collaboration.
EGYPT
Egyptian Banking Institute (EBI)
The Egyptian Banking Institute (EBI) was established in 1991 by the Central Bank of Egypt to act as its official training arm. Their aim is to apply the best international practices to develop the technical and managerial skills of banking and financial sector professionals. The EBI trains over 50,000 individuals annually.
The EBI's Retail Banking Academy invited us to accredit their Certified Retail Banker (CRB) qualification, in their commitment to this qualification becoming the recognized standard for professional retail bankers worldwide. The qualification provides access to an international network of fellow professionals and research resource, and individuals are bound by an ethical code and career-long commitment to skills development. The qualification provides a pathway to our flagship Chartered Banker program.
HONG KONG
The Hong Kong Institute of Bankers (HKIB)
The Hong Kong Institute of Bankers (HKIB) has played an important role in talent development in the regional banking industry since 1963. It is the first professional body in the territory to offer banking qualifications equivalent to a Masters' degree level.
One pillar of the HKIB's success is the strategic partnerships it has developed with relevant institutions and professional bodies in banking and other industries. Throughout the years, the HKIB has established ties with various local and overseas institutions, fostering banking development through the sharing of knowledge and expertise.
We have enjoyed a long-term relationship with the HKIB. In 2008, we entered into a Mutual Recognition of Qualifications and Designations Agreement facilitating a HKIB Certified Banker (CB) to undertake a Professional Conversion route to become a Chartered Banker and vice versa.
Hong Kong Quality Assurance Agency (HKQAA)
Established in 1989 as a non-profit-distributing organisation by the Hong Kong Government, the HKQAA helps industry and commerce in the development of quality, environmental, safety, hygiene, social and other management systems.
The HKQAA promote enrolments on to our Green & Sustainable Finance Certificate.
INDIA
Indian Institute of Banking & Finance (IIBF)
The IIBF has a membership of over 776 banks and financial institutions involving approximately 777,566 of their employees. Established in 1928, the IIBF is the largest institute of its kind in the world.
IIFB Junior and Certified Associates are eligible to have their qualifications recognised by the Chartered Banker Institute and attain Associate Chartered Banker or Chartered Banker status respectively, through a Professional Conversion Programme.
IRELAND
Institute of Banking in Ireland (IOB)
The IOB is a professional network of 33,600 members who work in banking and the international financial services sector. They have the largest continuing professional development community in Ireland with 23,800 registered members committed to lifelong learning.
The Chartered Banker Institute and IOB have a long tradition of working together to improve the knowledge and skills of bankers in the UK and Ireland. This collaboration / partnership agreement permits Chartered Banker status to be awarded to appropriately qualified IOB members. Approximately 600 IOB members have obtained Chartered Banker status to date.
JAMAICA
Jamaica Institute of Financial Services (JIFS)
Providing professional development avenues for those working in financial services, JIFS is the educational division of the Jamaica Bankers Association. JIFS have been serving the financial services sector for over 40 years, and we have been working in collaboration for over 10 years; writing and hosting exams for, and accrediting, a number of their certification programmes. These include the Certified International Financial Planner, the Certified Credit Professional and the Certified International Risk Manager programmes. JIFS also work in collaboration with the Bangor University Business School – with whom we deliver the Chartered Banker MBA.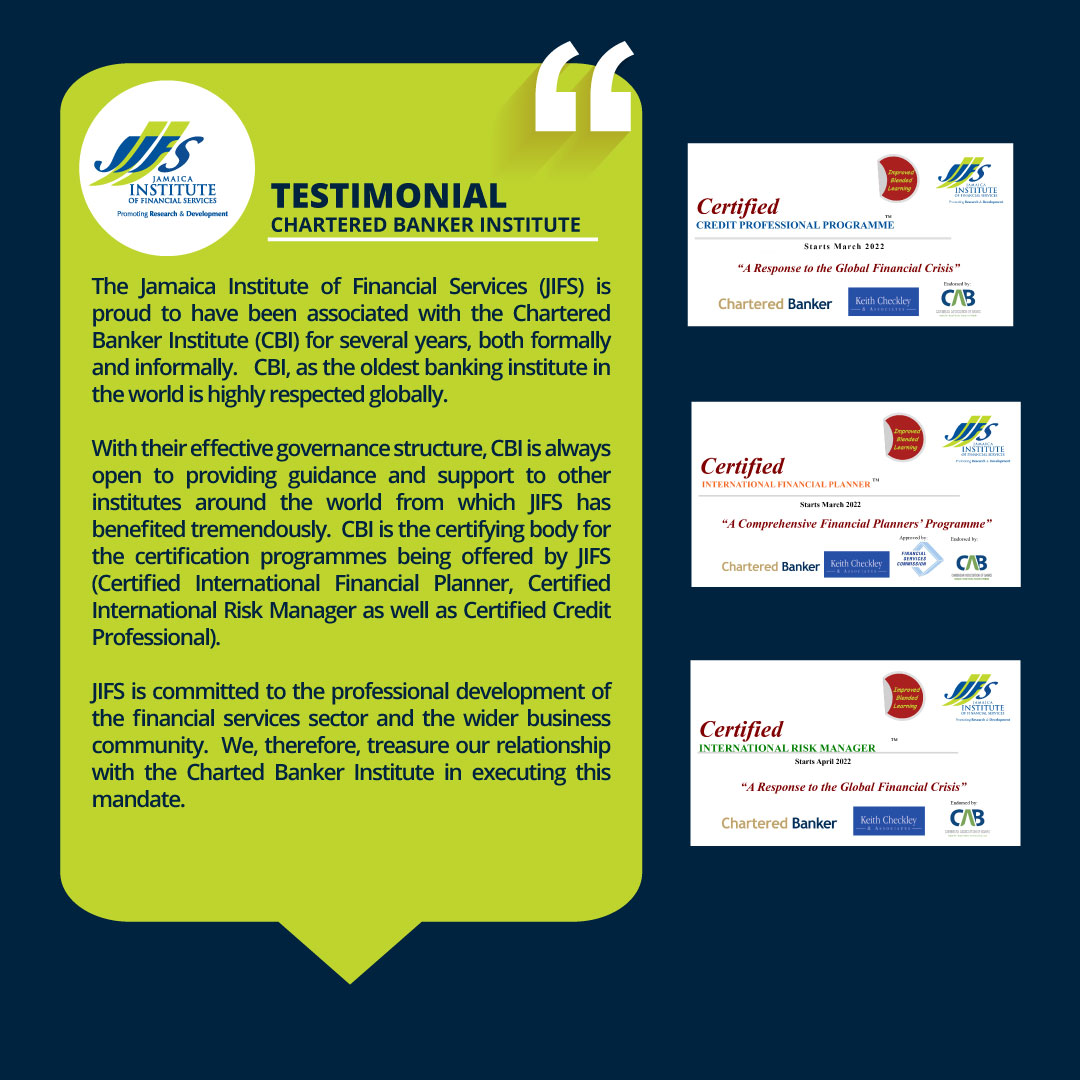 KENYA
Kenya Institute of Bankers (KIB)
The Kenya Institute of Bankers is the professional umbrella body for the banking and finance sector in Kenya with a membership of 42 banks and financial institutions. The KIB has been operational for over 35 years.
We developed a Kenya and East Africa oriented Credit Risk Management Qualification for the KIB, in co-operation with FSD Africa and the Chartered Institute of Securities and Investments.
MALAYSIA
Asian Institute of Chartered Bankers (AICB)
We have a long-term partnership with the AICB, having worked together for over ten years. Founded in 1977 and reflecting Malaysia's global reputation as an ASEAN finance hub, they are a significant and diverse organisation.
We enjoy a close collaborative relationship with the AICB and work with them on many levels, from the accreditation of various routes to Chartered Banker status, to supporting their ongoing qualifications management and review process and, more recently, supporting the migration of the full AICB exams portfolio to an online environment.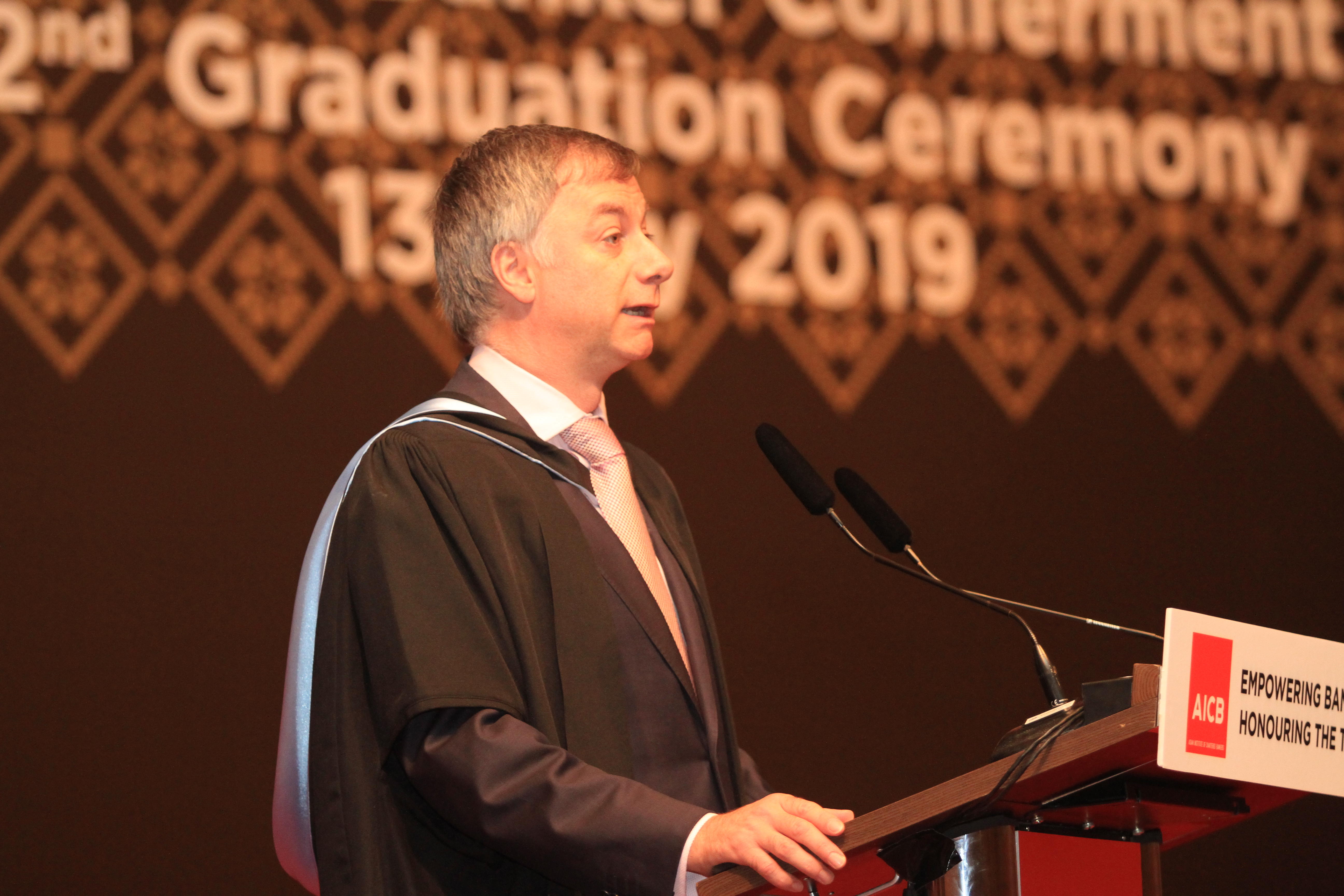 Accreditation of Routes to Chartered Banker
Our long-term partnership has led to the development of several clear pathway options within the AICB professional qualification framework which lead to the achievement of Chartered Banker status. Approximately 400 students have obtained Chartered Banker status to date.
Supporting Qualification Development
We continue to partner with the AICB in their wider qualifications management and review process, and as they develop and expand their qualification framework to respond to regulatory imperatives and introduce new programmes and courses to meet emerging market needs. This work includes reviewing and updating their learning and assessment to ensure appropriate alignment in topics such as ethics and professionalism, credit, risk, financial technology and digital banking and sustainability.
Migration to Online Exam Portfolio
In 2020 the AICB switched to fully online exam delivery. This facilitated 'business as usual' – with no interruption to student journeys, despite pandemic disruptions globally. We collaborated with the AICB in the end-to-end process from initial configuration of exams for the online environment, through to the enrolling of students for access to the exam platform. This involved the review and preparation of a full suite of 35 exams for entry to the exam system – a significant piece of work comprising over 5,000 individual exam elements - expediently completed within two months.
All 35 exams were launched on schedule, with over 4,000 exams booked within three months. We consider this a significant achievement and example of the excellent opportunities from mutual collaboration.
MALTA
Institute of Financial Services (IFS)
IFS have been operational for almost 60 years and have strong links with all of the main institutions on the island as well as with similar like-minded organisations, constituted bodies, financial regulators and the Maltese Government.
IFS offer their members various qualifications from our framework and they also work in collaboration with the Bangor University Business School – with whom we deliver the Chartered Banker MBA.

MAURITIUS
Mauritius Bankers Association Ltd (MBA)
Established in 1967, the MBA is an association of the 20 commercial banks licensed and authorised to conduct banking business in Mauritius. The MBA offer their members various qualifications from our framework. The qualifications have been accredited by the Mauritius Qualifications Authority.
PAKISTAN
Institute of Bankers Pakistan (IBP)
Established in 1951, the IBP takes pride in being associated with internationally acclaimed institutes from the banking and finance sector.
The IBP's Superior Qualification (ISQ) is endorsed by the Central Bank and is the only recognized professional qualification for bankers in Pakistan. The ISQ has been accredited by us since 2011 – providing validation of its quality and adherence to international standards. We have also accredited the Junior Associate Qualification (JAIBP) whereby individuals who successfully complete the programme can apply for Associate Chartered Banker status.
IBP has further strengthened its relationship with the Chartered Banker Institute by joining hands in promoting excellence in Islamic Finance at Pakistan. The alliance will help benefit IBP for establishing links and cooperate with other bodies with a view to pursuit common objectives and represent banking profession nationally and internationally.
The IBF also partner with the Bangor University Business School, delivering the Chartered Banker MBA.
PORTUGAL
The IfB Banking Training Institute is the body of the Portuguese Association of Banks (APB) for vocational training. The IfB have translated our Certificate in Green and Sustainable Finance into Portuguese for use as training material for their local market.
SINGAPORE
Institute of Banking & Finance (IBF)
The IBF have accredited our Certificate in Green and Sustainable Finance qualification to be eligible for funding by the Monetary Authority Singapore (MAS). MAS is the central bank and financial regulatory authority. The course is accredited under the Skills Framework for Financial Services scheme where students and financial organisations are eligible for the course cost to be subsidised.
This accreditation is now being extended to more of our courses.
SOUTH AFRICA
The Institute of Bankers in South Africa (iob.co.za)
The Institute of Bankers in SA is the Sole professional body for Bankers and Financial Services Professionals in the Financial sector recognised by the South African Qualifications Authority (SAQA) under The NQF Act No. 67 Of 2008 – 19 March 2013.
Established in 1904, the Institute of Bankers in South Africa (IOBSA) is a member driven, member centric Professional Body that exists for members that seek a career in the Banking and Financial Services sector. This includes offering of professional designations, the monitoring of a code of professional conduct and the delivery of carefully designed and monitored Continuous Professional Development (CPD) programmes through approved CPD service providers.
The role of the IOBSA has evolved over the years.
We are very excited to be collaborating with other like-minded institutes, especially one as well respected as the Chartered Banker Institute and believe that this will give all of our members a broader understanding of what is happening internationally in our Banking/Financial Services Industries.
Please visit our website for more information.
Critical Skills Letters
For Foreign Nationals wishing to work in South Africa, an application needs to be made to our Home Affairs Department. The South African Government recognises that there are certain critical skills required in the country and has gazetted this list. The Institute of Bankers in SA, as the sole Professional Body for Banking/Financial services, has undertaken to provide letters in support of these applications, as per the Act.
It must be noted that the Institute will only issue letters where applicants meet the skills and academic requirements. Where applicants have never worked in the financial services sector or where their experience is completely unrelated the Institute will not be able to assist with a letter. For more information, please visit our Website: Critical Skills - Institute of Bankers South Africa (iob.co.za)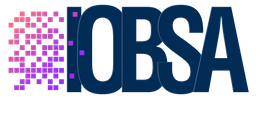 Taiwan Academy of Business & Finance (TABF)
The TABF is a non-profit organization, advised by Financial Supervisory Commission of Taiwan, established in 2000. The TABF serve financial personnel in addition to commerce, university students and the general public; training over 300,000 individuals a year.
The TABF feature international experts with worldwide industry exposure within their training programmes and they invited us to develop an online senior executive training programme; focussing on global banking trends. For the development of this programme we involved our partners at the University of Strathclyde, Strathclyde Business School.


TRINIDAD & TOBAGO
The Institute of Banking and Finance (IBF)
The IBF represents 11 corporate member institutions including the Central Bank of Trinidad and Tobago. It was established in 1984 through the collaborated effort of the commercial banks and Ministry of Education's National Institute of Higher Education, Research, Science and Technology.
We have accredited two of the IBF's credit and risk programmes and we also develop, manage and host the examinations for a number of the IBF's courses. The IBF are also launching our Chartered Banker by Experience programme for their members.
The IBF also work in collaboration with the Bangor University Business School – with whom we deliver the Chartered Banker MBA.
UNITED ARAB EMIRATES
Emirates Institute of Finance (EIF)
EIF was established in 1983 with the vision to be the leading institution in providing world class training in the banking and financial sectors within the UAE.
The Chartered Banker Institute has accredited a number of EIF programmes, and the EIF offer Chartered Banker Institute courses locally.
The strategic partnership formed between EIF and the Chartered Banker Institute has allowed EIF to raise the professional standards and performance of the Emirati workforce in the ever-changing world of banking and finance. It has also provided and opportunity for the local Emirati workforce to obtain an international, recognised certification for selected EIF programmes. EIF values the relationship highly as both EIF and the Chartered Banker Institute promote the values of globalization, professionalism, integrity, and lifelong learning.

UNITED KINGDOM

Association of Foreign Banks

Established in 1947, the AFB is the voice of Foreign Banks in the UK. Foreign banks oversee over half of all regulated capital in the UK and significantly underpin UK GDP. They engage in a wide range of banking and investment business activity, primarily in wholesale banking - making a significant contribution to the UK's standing as a major international financial centre.
The AFB champions the success of foreign banks in the UK by providing a platform for them to share information and best practice; promoting their interests to stakeholders, policymakers and regulators; and supporting a positive profile of the sector in the media. The AFB today has c200 members, about 80% of the UK's foreign banking market.



GLOBAL CONSULTANTS
Globally women control over $3.18 trillion. It would stand to reason that any organisation would want to leverage this growth in wealth by building their female customer pipeline. everywoman's Customer Accelerator Program is designed to support your customer facing teams to enable them to connect with your female customer base in a way that ensures your business can thrive. Learn how this Chartered Banker Institute accredited programme can help you create loyal female brand ambassadors, and increase your market share and sales.
Find out more: https://bit.ly/3VieDzy

Since 2006, Global Sustain provides a wide range of services and solutions to support its members and clients succeeding triple bottom line results. Based in London, Berlin and Athens, with offices in Brussels, Cairo, London and Larnaca, Global Sustain offers innovative online and off-line services related to sustainability, corporate responsibility, responsible investing, green economy, business ethics and excellence, transparency, human rights and accountability. Its members include corporations, non-governmental and non-profit organisations, municipalities and local authorities, academic institutions, media, professional bodies, service providers, chambers, think tanks and other public or private entities. Global Sustain cooperates and is a member of international organizations such as UN Global Compact, UN Principles for Responsible Investment (PRI), Global Reporting Initiative (GRI), Social Value International, Institute of Directors (IOD), CEO Clubs and TCFD. www.globalsustain.org / www.globalsustaingroup.com.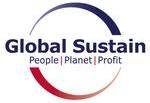 Sionic is a global consulting firm delivering expertise to financial services clients worldwide, with 300 professionals based in more than a dozen locations across Europe, North America and Asia.
Sionic invited us to accredit their Accelerated Development & Expert Leader programmes. Individuals who undertake these courses become eligible for a level of exemption from our Chartered Banker by Experience programme.