Individuals
Gain a highly esteemed and globally recognised designation from the oldest banking institute in the world.
Having operated for over 140 years, we are an intercontinental organisation with members in 107 countries and partnership arrangements with educational bodies in Africa, Asia, Australia, Europe and The Americas. Our strong and prestigious reputation as a gold-class professional body and quality education provider grows every year - as we welcome more and more members around the world.
With the increasing interconnectedness of the financial services industry, and increasingly internationally-relevant trends and impacts, our membership benefits, networking opportunities, continuing professional development opportunities and qualification range are designed around the global financial services community.
With immediate access to our online courses and a worldwide assessment delivery network – where it is possible to sit exams at home or at a local centre – the learning experience is exactly the same regardless of where in the world you are studying.
We continue to proactively grow our global reach and connect financial services professionals in our mutual aims of promoting quality education, the sector in general, and working in the public good.
Member Benefits
Professional Designations and Recognition
Qualified members of the Chartered Banker Institute are eligible to use professional and membership designations. Designations signal your professional expertise and commitment to professional conduct and are recognised and understood by the public and your peers.
The Chartered Banker designation is the highest award – recognised as the global gold standard, signalling the highest levels of professional excellence. We offer various flexible routes to the achievement of Chartered Banker status, including the recognition of prior learning. Please see below for details.
We encourage our members to employ the designations they achieve, as they should be justifiably proud of the studies and experience which have earned their use.
The use of all designations requires you to maintain your membership of the Institute, or with one of our partner institutes, and to participate in a continuing professional development (CPD) scheme (see below).
Please see here for the professional and membership designations awarded.
Qualified members eligible to use professional designations are;
Able to download a Certificate of Professionalism

Published on our Register of Banking Professionals.
Certificate in Professionalism
A Certificate of Professionalism is available to members. This can be displayed and shared with the public, peers and employers to provide formal recognition of your personal commitment to maintaining your professional knowledge and skills, and upholding of the highest standards of professional behaviour. The Certificate of Professionalism can help firms by providing independent verification of an individual's standing.  This can be downloaded from your My Member Area of the website.
Register of Banking Professionals
We publish a Register of Banking Professionals showing all members that have successfully gained and maintained their Certificate of Professionalism. 
Please see here for our Register of Banking Professionals.
Events
We offer a full, varied and continuous events programme from events on soft skills - such as how to enhance your career prospects - to specialised technical courses – providing you with access to approximately 100 events a year.
Our events share the latest in research findings and thought-leadership from industry experts and academia to ensure our members are kept up-to-date and informed in activities and trends impacting and shaping the industry.
From webinars to annual conferences, to competitions for showcasing talent and tomorrow's leaders, we will keep you informed of upcoming event opportunities via our e-newsletter.
Please see here for our upcoming events.
Global Networking
Our members tell us that one of the main benefits of our membership is the ability to network with like-minded professionals around the world – whether formally through one of our volunteering opportunities - such as our member-led committees or mentoring platform - or informally through one of our networking groups such as the Ask the Expert and group chat functions tied to different qualifications.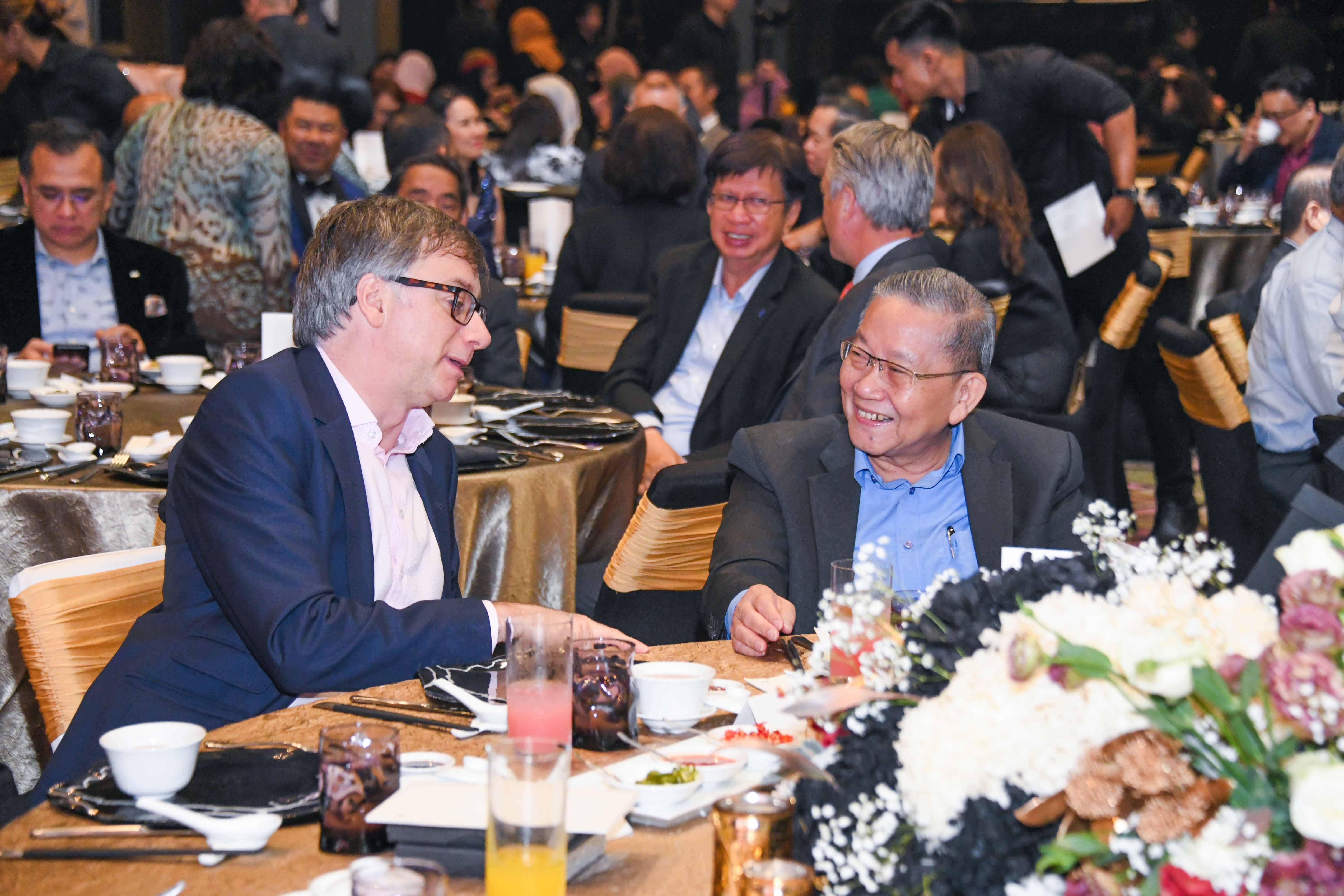 Chartered Banker magazine
As a member you will receive our Chartered Banker magazine in addition to other publications such as our monthly e-newsletter, containing links to the latest thinking and debates - delivered through webinars and blogs, often produced in conjunction with partner organisations around the world.
Mentoring
We offer the Chartered Banker Mentoring Programme as a benefit to our members. We welcome mentors and mentees from all levels in all roles – including members at the start of their career right the way through to experienced professionals. You will be provided with access to our mentoring platform as part of your membership, where you can register as a mentor or mentee and review individuals' profiles to connect with those who match your requirements.
Please see here for further information about our mentoring programme.
Membership Forum
Each year we seek members to join our Membership Forum to help guide the activities of the Institute and ensure that we are designing our offerings around current and future member needs. This forum provides an opportunity for a large and diverse group of members to get involved in the governance of the Institute. This Forum also plays an important role in promoting the benefits of membership within banking.
For more information, please contact [email protected].
Profile Raising / Editorial Contributions
We are keen to receive contributions from members who could be interested to share their expertise and experience with others, for example, through our webinar series or through articles in our Chartered Banker magazine. If you are interested in sharing your expertise with others, whilst raising your own profile, we would be interested to hear from you. Please contact Martin.Fishman@charteredbanker.com.
Learning
Our learning is delivered online through our website and Learning Management System (LMS) – with instant access to the full range of learning materials from the moment you enrol. It is possible to enrol for a course at any time throughout the year and you can take your assessment at any time within twelve months from the date of enrolment.
Most of our courses and qualifications are delivered as interactive learning experiences – comprising of modular units, articles, videos, quizzes and links to further information.
Members also have access to a wide range of additional resources to aid their learning, such as short courses, webinars and our online Chartered Banker magazine.
Assessment
We offer exams at 5,600 test centres around the world, from Afghanistan to Zimbabwe, through our partnership with global exam delivery provider Pearson VUE.
We also offer learners the opportunity to take their exam at home or other chosen location. All that is required is a:
Quiet, private location

Reliable device with a webcam

Strong internet connection.
Simply book your exam via our website when ready, selecting from a range of dates, times and locations.
Continuing Professional Development (CPD)
It is necessary to retain your professional membership, undertake annual CPD and commit to our Code of Professional Conduct to maintain your entitlement to use any designations that you are awarded. Professional designations signify personal commitment to continual learning, upskilling and professional and ethical behaviour and are recognised by customers and the public alike as your dedication to, and promotion of, these values.
We provide access to a wide range of resources including reference books and articles, videos and e-learning. Our resources are all designed to support your professional development and our collection is continually updated to reflect current industry needs. We provide guidance on how the CPD scheme works and how it applies to you.
Please see here for more information
Recognition of Prior Learning
We recognise that knowledge and skills can be attained from a broad range of learning. Where appropriate, knowledge and skills gained via the certificated programmes of other recognised awarding bodies can be given credit towards our professional qualification programme, providing a faster route to Chartered Banker status.
Please see here for further details.
Our Qualification Framework
Whether you are new to the sector, an experienced professional who wishes to convert years of experience into a recognised qualification or a line manager seeking new ways to inspire your team, our flexible framework of professional qualifications is designed with you in mind. Each level of study instils the concepts of ethical professionalism and develops core banking skills.